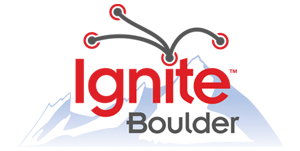 A few weeks ago a friend called and asked if I'd be willing to speak at the upcoming 11th Ignite Boulder event.   Apparently, someone had bailed last minute and they were scrounging for a replacement.  I was flattered and naively said yes.
Later I found out I was one of 15 presenters who, according to the Ignite Boulder website would:
"have exactly five minutes to teach something, enlighten us, or simply inspire—backed by twenty slides auto-advancing every fifteen seconds."
Okay, that made it a little more stressful.  Then I found out the audience would be comprised of 1400 really smart, forward-thinking people who quite possibly would've had a few beers beforehand.  It became a lot more stressful.
Surprisingly, it was one of the most fun things I've done in awhile.  There was tremendous support and humor among the organizers and presenters as we grappled with an unconventional format that we knew would lead to some gaffs.  I feel like I should have an "I survived Ignite Boulder" t-shirt.
Here's the you tube  link to my bit on The Benefits of Grumpy Enthusiam.

Check out some of the others too.  I found these particularly worthwhile:

Josh Fraser on Snakes and Staircases
Ceci Ervin on My Polish Catheter

Ryan Wanger on 10 Selfless People Who Accidentally Changed the World for the Worse
Enjoy!