I get to work with a lot of people who are ready for a change, by their own design or not.  Some know what they want:
New position at the Same Company
Similar Position in a Different Company or Industry
Different Everything
Others just have an itch that needs scratching but don't know much beyond that.
Whatever the situation, most people can work out the tactical aspects of change. The trickiest steps in the transition tango are usually associated with uncomfortable, often unfamiliar, feelings*:
Overwhelmed
Lost
Scared
Self-Conscious
Excited
All of the above
*Supposedly women shouldn't use "feeling" in business because men won't get it and using that word makes us seem soft. Well guess what? After 10 years of doing this work, I can safely say that men "feel" these things too.
In response, I've developed the Multiple Paths Approach, which helps people become more calm, open, focused, and successful during their period of change-in-the-make. There are 2 basic steps:
1.  Name several possible "paths"   A path is a direction you are curious about, for example "I wonder what it'd be like to work in healthcare."  Instead of thinking sequentially along just one track however, imagine exploring several interesting possibilities simultaneously, e.g.  "Healthcare is very dynamic, but I also love international travel."  Write down a handful of possible paths.  It will allow your brain to relax since it doesn't have to remember everything that's buzzing around between your ears.  Naming many paths also shows some respect for the shy desires that get pushed aside if you're only looking at the "practical" paths.  A path may relate to a position, company, industry, course of study, or new business idea. One path should always be Make the Current Situation As Good As Possible.
2.  Focus on the One Next Step for each path Following through on this piece is how you prevent overwhelm and build momentum.  For each path, determine what tiny step will carry you farther along the way.  It may involve researching online, talking to someone, or creating something.  You might not know what the next step is.  In that case, the "next step" is to calendar a time to figure it out!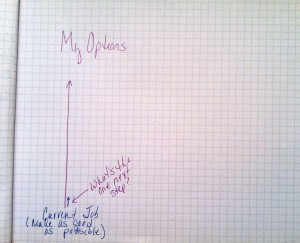 3.  Steadily progress along each path Okay, I know I said "2" steps.  This last bit is just repeating the above step over and over until you reach a particular path's "summit".  For some paths, the summit may be a dead-end where you've learned enough to know that this isn't for you. Use that knowledge to propel you along on a different path.
Years ago I was excited (for a week) about following the Be A Vet path.  That was until a "one next step" had me shadowing my vet and holding unhappy animals while the tech poked their innards for stool samples.  In one day I discovered that I get antsy if left in windowless rooms too long, and am more uncomfortable with cranky animals than cranky people.
Other summits may lead to beginning graduate school, starting a business or securing a new position at a different company. Clients have also earned an elusive promotion at their current organization because they did such a good job Making the Current Situation As Good as Possible, even while they were looking elsewhere!  Sometimes there's no place like home, Toto.
This tool is most helpful when you're:
Defining your paths with candor
Working your paths diligently
Looking for ah ha's and applying that learning
The process also works better when you tether any sense of "already knowing" what lies ahead and walk the different paths with the sense of a true explorer.