Everybody talks about New Year's Resolutions, and yet fewer and fewer people seem to give them a go. I guess enthusiasm has waned after years of disappointment. 

There are many reasons for not reaching goals, but I'm only going to highlight one right now. It comes from Marsha Austin Rodwin, founder of Radiance Power Yoga: 
 "As you chart your goals and list your resolutions this month, I encourage you to take a step back and first look for the beliefs and ways of being deep within yourself that have created you and your life as you know it.
Without first forgiving past hurts and wrongs,
being grateful for what we do have,
and bringing awareness to our often unconscious fears
we have no chance of creating a life filled with success as we choose to define it.  
It's like putting a fancy icing on a garbage cake. As we continue to eat this conflicted concoction we inevitably come to feel worse about ourselves. When we set out after big goals and changes in our lives without first doing the work of clearing out self-sabotaging thoughts, beliefs and behaviors, we fall short of our expectations for ourselves and then end up beating ourselves up all the more."
Sounds like the real New Year's Resolution is about getting a handle on garbage before goals.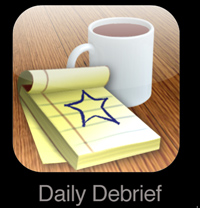 (And, once you've done that, check out the Daily Debrief App  to help with goal attainment. "Like" it to keep up to date on features and availability.)