The mixed blessing of enhanced technology includes faster turnaround times, greater expectations and a blurred line between work and personal time.  When you're on the receiving end of this super-fast responsiveness it can be awesome. If you're the provider it's often exhausting and stressful.
After Spike and I met speaking at IgniteBoulder (watch Spike and Cindy), we decided to build an app together and the Daily Debrief was born. The idea came from seeing many of my coaching clients struggle with making progress on an important, but not always urgent goal. Their "homework" often involved staying connected to that goal by checking in every day with:
What worked?
What didn't?
What's one thing you can do tomorrow to come a step closer?
The Daily Debrief App provides that critical, low-tech introspection on your ever-present, high-tech device, along with some added features for gaining insight.  Partnering on a software development project could easily have been one of those exhausting and stressful situations.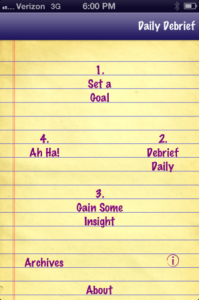 Spike and I acknowledged that we both had pretty full plates already and this project should be fun, which meant:
No arbitrary, crazy-making deadlines.
An enjoyable, iterative process that allowed us to create as our learning unfolded.
Relaxed meetings at Atlas Purveyors where the first agenda item was catching up on kids, vacations and our other jobs while drinking good coffee.
An appreciation for each other's priorities, which allowed the  Daily Debrief App to be fluid in its place in line.
As a result:
We gained useful feedback from  3 rounds of testing.
Spike had time to figure out how to program features that we thought would have to be in a later version, e.g. syncing "tomorrow's one thing" to your calendar.
Spike and I still like each other 😉
It may not be the norm, but given our goals, moving at this slower pace sure made for a satisfying experience. There are still options for choosing the intensity we bring into our lives, even in a "get it done yesterday" world.
Next up? Spreading the word and getting people to try it! Would truly love your support:
In appreciation, I'll buy a cup of coffee (via Facebook Starbucks gift card) 
for the first 10 people who email their iTunes receipt to me. Thanks!